Home

Meditations & Events Schedule

Teaching Schedule

Essays & Articles

Dharma Talks

Sangha Reflections

Dharma Books

Become
a Supporter

About MTSource

Contact
Sangha News
MT. SOURCE SANGHA'S FIRST 5-DAY SESSHIN AT JIKOJI
Mountain Source Sangha's first 5-day sesshin was held at Jikoji in Los Gatos from Thursday, August 22, through Monday, August 26, 2002. It was truly a Sangha event with participants from each of the groups in Bolinas, San
Rafael and San Francisco, as well as one of our out-of-state members traveling from Chicago to join us. We had a dozen people on most days,growing to 13 over the week end, but with 8 remaining on the last day. Although a few people were able to stay for only three or four days, most of the participants were able to do the full five days.
And they were full days. The wake-up bell got us up at 4:50 a.m. and we were in the meditation hall by 5:30 a.m. where we did two 35 minute sits with kinhin in between, and then chanting service before breakfast. After breakfast we had a break until 8:30 a.m. work period. Then back to the meditation hall to sit at9:20 a.m.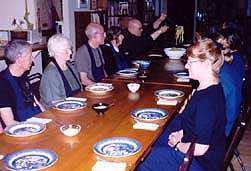 Lunch was 12:30 p.m. with a short break afterward. Back to the zendo by 2:10 p.m. with a short break for tea at 3:30 p.m., then sit some more until dinner at 6 p.m. After dinner was another short break, but we
were back in the hall for more sitting until 8:50 p.m. Lights went quickly out by nine, as we were all exhausted by then.
Everyone was unanimous that a huge thanks goes to our Tenzos, Miriam Damon,and Dale McCarty. Miriam did an excellent job planning the meals and supervising the cooking for us. The meals were all delicious, and we could appreciate the amount of work involved because each of us at one time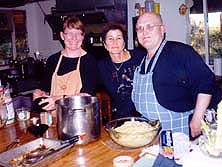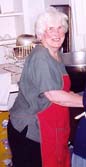 or another was on the work crew that helped with the prep for the meals. We also shared the work of keeping the common areas and the zendo clean. And those of us who remained until the end of the last day did a lot of cleaning to put everything back to the way it was when we arrived.
Jikoji was a wonderful setting for our sesshin, located far back in the mountains, much closer to the ocean than any of us expected, and thereforesubject to fog. The first two days were cold enough in the morning towarrant lighting the wood stove in the zendo, but each day got a little warmer and by the last day it was actually hot. Although our breaks were
short, there was sufficient time to take short walks in the woods and hills around Jikoji, which is surrounded by undeveloped open space.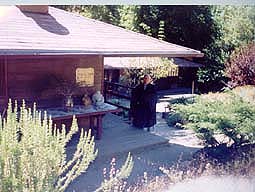 Taigen did a wonderful job planning our schedule for the sesshin and in preparing his dharma talks for the 5 days. However, not long before our sesshin began, Kobun Chino Roshi, the much-beloved founder of Jikoji, died tragically, drowning saving his six-year old daughter, who also drowned. Kobun had played a critical role in the early years of setting up the San Francisco Zen Center, and later established many zendos. His gentle warmth and openness were widely appreciated. Due to unavoidable schedule circumstances, the funeral service was set to happen while we were there at Jikoji. On Thursday, the first night we were there, the weekly memorial service was held in the zendo, so we were joined by many of his followers to sit and then to listen to a talk by his disciple Caroline Atkinson. On Sunday Jikoji was filled to overflowing with Buddhist priests and with Kobun's students who arrived from all over the world. We were invited to attend the ceremony, which most of us did,although a few continued sitting and walking meditation in the meditation hall.
The funeral was held outdoors, in the woods by the lake, and the weather was perfect. It was a very beautiful and moving service and afterward, as we ate our lunch in the dining room, we shared our space with the many priests who had come for the ceremony and who were using our common room as a robe changing area. Later in the afternoon we had a visiting couple join us for tea and heard more stories and teachings of Kobun's.
Although all the funeral activities caused some interruptions to the sesshin's schedule, we all felt that it was a strong encouragement for our sesshin. Besides benefiting from our planned meditation time and Taigen's dharma talks, we
had added to it many teachings and stories from Kobun.
Taigen started the sesshin recommending the zazen practice of watching the arising of thoughts, feelings, and sensations; to "Follow the stream back to the source, and sit, and wait, for the time when clouds arise." (after the old Chinese poem by Wang Wei.) But then Taigen's main Dharma story for the sesshin was case 61 of the Blue Cliff Record, "If you set up one speck of dust, the nation flourishes (but the village elders frown). If you do not set up one speck of dust, the nation perishes (but the village elders rest easy). Are there any Zen practitioners who will live together and die together?" Taigen also discussed the line from the commentary to this case, his favorite line in the Blue Cliff Record, "He has his own mountain spirit realm." Here at Jikoji we had ample evidence as to what setting up one speck of dust could do in the example of Kobun's life.
Altogether, for our first try at a 5-day sesshin on our own, Jikoji was definitely a learning experience, but one that was certainly good. So who's ready for the next one?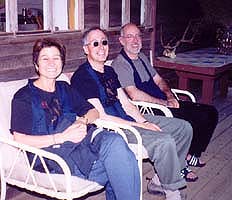 -Rose Scarff, Mountain Source Sangha Treasurer and Board member- Photos by George Mills, Mountain Source Sangha Secretary and Board Member