Home

Meditations & Events Schedule

Teaching Schedule

Essays & Articles

Dharma Talks

Sangha Reflections

Dharma Books

Become
a Supporter

About MTSource

Contact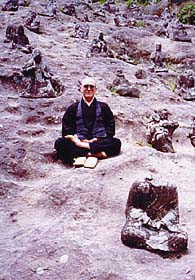 Taigen in Japan with ancient Buddhas

Biographies: Taigen Dan Leighton, Founding Dharma Teacher


Taigen Dan Leighton is a Soto Zen priest and Dharma successor in the lineage of Shunryu Suzuki Roshi. Taigen first studied Buddhist art and culture in Japan in 1970, and began formal everyday zazen and Soto practice in 1975 at the New York Zen Center with Kando Nakajima Roshi. This led to his returning to graduate in East Asian Studies and study Japanese language at Columbia College. Through the 70's Taigen was also an award-winning documentary film editor in New York and San Francisco, including work for NBC News and Bill Moyers Journal. While editing TV news, it was necessary for Taigen to learn about the one who is not busy. Taigen left his filmmaking career in 1979 to work full time for the San Francisco Zen Center at the Tassajara Bakery, and he was ordained in 1986 by Reb Anderson Roshi.

Taigen has practiced and resided for years at San Francisco Zen Center, Tassajara monastery, and Green Gulch Farm Zen Center. He also practiced for two years in Kyoto, Japan, 1990-92, translating Dogen with Rev. Shohaku Okumura, and practicing with several Japanese Soto Zen teachers, including one monastic practice period. Taigen founded the Mountain Source Sangha meditation groups in Bolinas in 1994, since then adding branches in San Rafael and San Francisco. He received Dharma Transmission in 2000 from Reb Anderson.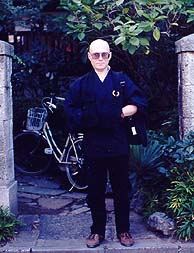 Taigen in Japan
Taigen is author of Faces of Compassion:Classic Bodhisattva Archetypes and Their Modern Expression (revised edition of Bodhisattva Archetypes: Classic Buddhist Guides to Awakening and Their Modern Expression); and he is co-translator and editor of several Zen texts including: Cultivating the Empty Field: The Silent Illumination of Zen Master Hongzhi ; The Wholehearted Way: A Translation of Dogen's "Bendowa" with Commentary ; and Dogen's Pure Standards for the Zen Community: A Translation of "Eihei Shingi"; and The Extensive Record of Eihei Dogen. His latest book is Visions of Awakening Space and Time: Dogen and the Lotus Sutra, due in April of 2007. He has also contributed articles to many other books and journals.
Taigen teaches at the Berkeley Graduate Theological Union and he has taught at Saint Mary's College, the California Institute of Integral Studies, University of San Francisco, and University of Creation Spirituality. Taigen has been an elected member of the Board of San Francisco Zen Center, which he Chaired for three years. He has been active in many interfaith dialogue programs, including conducting annual Buddhist-Christian dialogue workshops, and he also has studied Native American spiritual practice. Taigen has long been active in various Engaged Buddhist programs for social justice, including work against the Death Penalty. Taigen remains "Founding Dharma Teacher" and a consulting teacher for the Mountain Source Sangha. As of the begining of 2007, Taigen has relocated to Chicago, where he leads our sister sangha, Ancient Dragon Zen Gate. Through that group, Taigen is now working to develop accessible practice and training programs in the Chicago area. He also will be teaching at Loyola University in Chicago, and Meadville Lombard, the Unitarian seminary in Chicago.